Hey all, during the last roadmap meeting, we had a fruitful discussion about DAOhaus future directions and strategy. I've worked with Spencer in distilling and summarising the main points here for discussion.
---
Context & Purpose
Gnosis' launch of Zodiac
Gnosis' launch of Zodiac represents a strong alternative to DAOhaus because of its feature parity with Moloch DAOs and DAO composibility. First, new Zodiac modules have started to achieve feature parity with Moloch's offering (such as RageQuit via Exit, Grace Period via Delay). Additionally, Zodiac's composability should kickstart a wave of use cases/ DAO legos built by the community (e.g. Seele module built by Tokenwalk to introduce different types of voting models).
Given the prominence of Gnosis Safes, feature-parity with Moloch and the composability of Zodiac modules, anyone starting out with a Gnosis Safe will likely have a Zodiac-based DAO solution on the top of mind. This is a good time to ask: why would a DAO summoner choose DAOhaus to summon their DAO?
Purpose
With the above context, our discussion was aimed at:
Understanding how Zodiac works & implications for the DAO ecosystem
Zooming into DAOhaus to discover our niche & community personas
Looking forward to align on DAOhaus' strategic directions
1. Understanding Zodiac
How does Zodiac work?
Zodiac is Gnosis' way to DAO, exhibiting their belief that every DAO starts with a Gnosis safe (i.e. the bank account). Here, DAO 'summoners' can add different DAO legos via Contract Address to install more functionalities. Currently, there are only 5 Modules (all built by Gnosis Guild).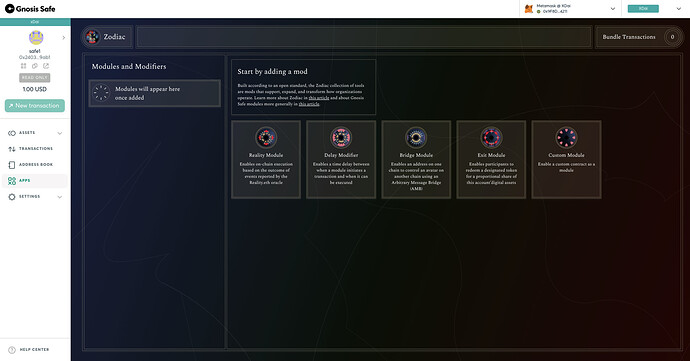 How does DAOhaus work with Gnosis today?
There are 2 ways DAOhaus has 'integrated' with Gnosis:
Safe Minion: A Minion that uses Gnosis Safe as the vault
DAOhaus app on Gnosis Safe: DAOhaus is an app on Gnosis Safe, where users can click on the App to open an iFrame of DAOhaus
The Safe Minion helps us focus on what we do best (governance), while keeping our vaults to a high standard. The DAOhaus app on Gnosis enables interoperability and easy onboarding for Gnosis signers who want to evolve into a transparently-governed DAO.
What does Zodiac mean for DAOhaus?
When there are more Zodiac Modules, it is likely that Zodiac functionalities will exceed DAOhaus'. It should be hard to plug all these DAO legos together with good user experience, so We should observe how TokenWalk approaches this challenge.
As we started comparison between DAOhaus & Zodiac, the discussion shifted to look inwards at DAOhaus: who is our user? what do we want to be?
2. Zooming in: Community Personas & Our Niche
What are we solving for?
We want to empower communities to coordinate better together.
Who are we solving for?
First, we want to build for communities with a strong purpose that are actively involved - project, product or service DAOs. These DAOs are internet tribes that share a common goal, identity and vision. These members embody community as opposed to audience that can be seen in projects with many token-holders that do not really participate, collaborate or identify with the DAO.
Coincidentally, our permissioned shares-based voting is better for running purpose-driven communities. This is because they are more organised via mimicking Web2 organisations or creating their own processes, which our governance system can help run. A juxtaposition would be 'fun' sporadic communities without a clear purpose - these organisations have formless or non-existent governance, so an ERC-20-token governance system might be a better start.
We are not saying that we don't want to serve current ERC-20 token-based communities. In fact, they are a big part of existing DAOs today. We will need to figure out ways to onboard them into DAOhaus such as getting sub-teams with a clear purpose (e.g. Product teams) to use DAOhaus for more focused collaboration. We should also explore increasing transferability and fluidity of voting power within our permissioned governance system.
What is the DAOhaus product?
DAOhaus' 'product' is not just the DAOhaus user interface and features, but also the community around DAOhaus.
On a product front, DAOhaus' main focus is in providing a human, fun and simple user interface to navigate technical concepts such as shares, governance, treasury. To provide upgrades to the core DAO experience, DAOhaus also has Boosts and Minions.
Beyond the UI and features, the community around DAOhaus is not just people on Discord or Snapshot, but collaborators who constantly create new initiatives for DAOs. These initiatives help onboard new DAOs, facilitate DAO-to-DAO interactions and create new DAO use cases (such as LP DAO and Meta-X-lerator) which can be productised in the future.
What makes us unique?
After discussion on our approach, the main value propositions of DAOhaus are:
| | Our UVP | Why are we uniquely positioned to do it? |
| --- | --- | --- |
| 1 | Heavy focus on governance & active collaboration for a purpose | Our product starts governance first (proposals, membership, voting, etc.) as compared to bank/treasury first |
| 2 | A user-friendly, human and fun way to navigating technical concepts | We design for cool & fun communities, rather than for IBMs |
| 3 | A wider community that creates new initiatives & services for DAOs (e.g. UberHaus / LPDAOs / Meta-X-lerator) | DAOhaus is owned, built and governed by DAOs - the entire community is DAOing together in a meta way |
| 4 | A social way to discover, manage and follow all DAOs in the ecosystem | We already have social aggregation features such as the Hub, Explore |
| 5 | An ecosystem of Boosts to expand DAOhaus functionality | We have an existing Boost marketplace |
3. Moving Forward: Strategic Directions
Given the above UVPs, DAOhaus' strategic direction remains being focused on community governance in a fun & human way. However, in order to adapt to the evolving DAO landscape, we should add the following focuses :
Community initiatives and products
Social Features
Boosts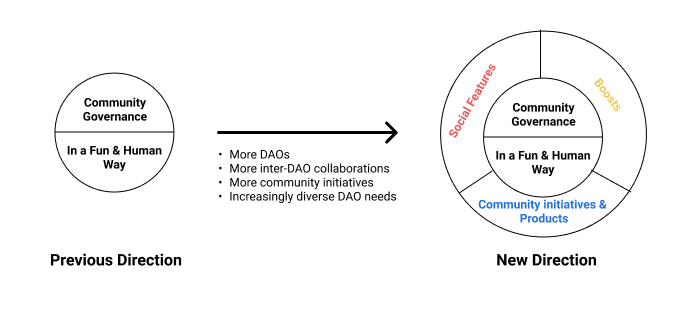 This way, community initiatives push the boundaries by testing emerging DAO-DAO interactions and meta-DAO use cases, while magesmiths can productise those that work well. Social features will also help DAOhaus users better navigate, explore and be active in different DAOs. These 2 features are possible only because of the community unique to DAOhaus, giving us a superpower that is not easy to replicate.
Finally, Boosts will help to continually upgrade the functionalities of a DAOhaus DAO.
Refer to Appendix for a diagram on how these strategic focuses can practically lead to the benefit of DAOhaus
Positioning in relation to Zodiac
When thinking about how we navigate the eventual overlaps with Zodiac (especially in DAO functionality & Boosts), the analogies of Android and Apple are useful to consider.
Zodiac Modules' strength in composability and customisability is great for power-users to customise legos for advanced use cases. While this attracts power-users, it is not the best starting point for new communities first entering the DAO space. Hence, we thought the Android analogy represents Zodiac's position in the space well.
With a user-friendly, simple and fun user interface, DAOhaus wants to embody the Apple approach, where we provide the easiest way for anyone to summon and participate in a DAO. This should be apparent in our core interfaces, features, copywriting and even best practices for Boosts. We do not need to be at the bleeding edge or have the most use cases, but we make sure that all DAOhaus use cases are intuitive, simple and work well. If more advanced DAOs need more functionality, we should have custom Boosts and Minions for them to DIY.
While we can learn from Apple in some areas, there are other areas we can innovate in our own way (i.e. don't learn from Apple). For instance,
Interoperability between all platforms, so that DAOhaus can benefit and work with other ecosystems and builders
Openness and fairness in app curation (perhaps borrowing from Mirror's $WRITE Race mechanic)
Positive sum game thinking
Another analogy would be WooCommerce vs Shopify
Ask
The focus here is to discuss and align on the strategic directions and focuses before we can look at the executional steps and priorities.
---
Appendix
Executionally, this is how the strategic direction may be mapped to existing or new initiatives
| | Our UVP | Magesmiths' initiatives |
| --- | --- | --- |
| 1 | Heavy focus on governance & effective collaboration | Continue doing this & explore greater transferability of shares |
| 2 | A user-friendly, human and fun way to navigating technical concepts | Continue doing this |
| 3 | A wider community that creates new initiatives & services for DAOs (e.g. UberHaus / LPDAOs / Meta-X-lerator) | Continue incubating initiatives via community, while magesmiths productise those that work (e.g. LPDAO) |
| 4 | A social way to discover, manage and follow all DAOs in the ecosystem | Build more social features (e.g. profile pages, follow DAOs, favourites, messaging, etc.) |
| 5 | An ecosystem of Boosts to empower expansions to DAOhaus functionality | Reduce barriers to Boost creation & incentivise Boosts development via Grants |
This is how the different initiatives may drive the growth of DAOhaus ecosystem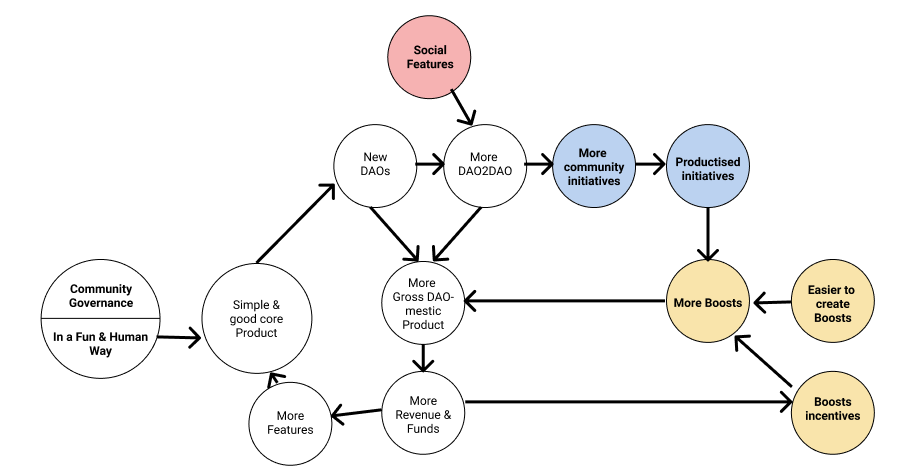 For other versions of notes, please refer to: