UberHaus Origins Proposal
This outlines an idea that has been discussed in recent UH delegate and UberPaladin meetings. There are certainly missing pieces and mechanics that should be hashed out. This is my first proposal/initiative so any/all feedback for improvement would be much appreciated!

Background
UberHaus proclaims to be the DAO of DAOs, but what does this mean exactly? What is the unique uber vision of the federated DAO ecosystem that this community wishes to put forth? Does the community understand why UberHaus was summoned, who participates in its activities, and what the DAO seeks to accomplish? What do DAO delegates wish to manifest through these coordination efforts?
While diverging on the development of internal branding and market strategies, we discussed that it would be best to hear from the DAO delegates themselves and let them determine the lore/narrative/mythos of the most Uber of Hauses.
Problem: UberHaus Must Articulate It's Own Purpose
It's hard for new DAOs to figure out where they fit in while onboarding to the DAOhaus platform
Current delegates and haus builders have invaluable advice, but no easy way to share it
There's a disparity between UH's internal idealistic conversations and it's external comm's. There's a wealth of eclectic and down-to-earth personalities within the DAO and we want to shine a light on the inclusive human-elements of the DAO
Solution: UH Delegate Interview Marketing Machine
Create a working group that can schedule, interview, transcribe, and publish interviews with UH delegates. This helps them share their advice, DAO story, hopes/desires for UH & unique contributions to the community.
Reduce that barrier to entry and help newcomers, especially those with less traditional paths or experiences, feel welcome within the haus.
Spread the gospel of righteous DH tooling and the UH federation to imbibe a strong sense of internal cohesion and community
Deliverables
Interviews with UH delegates, uncovering their DAOs identity/purpose and illuminating their onboarding experiences to DAOhaus (see questions below)
A new appendage to the website (see MVP of a similar RG Origin Stories project [https://raidguild-origins.vercel.app/]
An internal repository of interviews that might be referenced by members interested in synthesizing the research for internal ops, applying to external client applications, or simply clarifying the evolving vision of UH
High-quality marketing content to broadcast on UH social channels
Methodology Overview
Gather interviewees, provide an introduction to the project, schedule meetings, manage contributors. The early iterations standardize best practices for future contributors to follow so it stays decentralized.
The rough transcription is edited, polished, delivered in markup for easy integration.
Designer creates MVP, integrates UH design system. Role is complete after delivering MVP?
Dev integrates into the existing UH website. Role is complete after CMS is setup?
Marketing-minded contributor extends the material to other outlets (social media, podcasts, DH/UH newsletter, etc.)
Interview Questions
Initial Questions for Delegates
Introduction to your DAO.
What is your role in your DAO?
Are you a member of any other DAOs?
What constitutes a healthy DAO?
How would you describe trust and loyalty transpiring in DAOs?
What does the future of coordination look like?
What does UberHaus – the DAO of DAOs - mean to you?
Does your DAO have any announcements, goals or milestones our UberHaus community should know about?
Conclusion + DAO Contact Details
Supplemental/Expanded Interview Content
What is a federation of DAOs?
How does UberHaus differ from other federations of DAOs?
How should we evaluate community health and happiness? What metrics might we draw upon?
What should be the goal of UberHaus? What do you think the future priorities of UberHaus should be?
What is the purpose or value that your DAO brings to the community?
I propose that these questions are crowdsourced from the UH community and that they remain a living document, shifting dynamically as the DAO continues to articulate its brand and agenda.
Contributors: UberPaladins or RaidGuild?
Originally was going to be Travis, Zayi, and Nick conducting the interviews
We might source a designer (Felipe?) and dev (JP?) internally
Scope has now expanded so we might consider outsourcing the entire project to RaidGuild
Keeping it in-haus…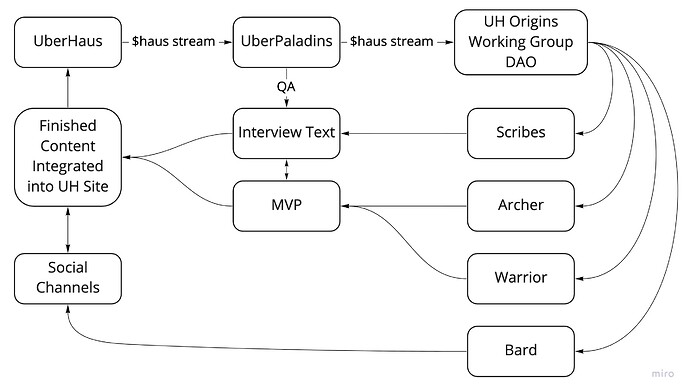 Alternatively…
Schedule & Budget (very open to discussion and guidance)
$5000 (??) one-time payment for MVP (3 interviews, illustrations, front end design, dev, foundational coordination)
$1000 (??) per delivered interview live on the UH site
2-4 interviews per month, pending ongoing approval of UberPaladins, billed on a monthly basis
I would appreciate some consult on the economics of the proposal, DAO tools to decentralize compensation distributions and provide transparency, etc., from someone that knows better than this noob