It was a busy weekend and yes, this week's update is a day late due to a DEX issue. Here's several updates as well as this week's numbers, which were taken yesterday morning, Nov 15th, around 10AM EST. Today's dip has not been factored into these numbers.
STARATLAS.EXCHANGE DEX
First off, Cain and I have been busy making improvements to the DEX. He's managed to convert our Serum markets web API, which was previously running off of a single AWS instance, over to Lambda, which means lower costs for us long-term. We're still in the process of reconfiguring public access to the old endpoint, but that will be cut off and should be low maintenance from here on out.
Star Atlas added ATLAS markets for all ships, and we reconfigured the DEX as needed. We had a bit of a database issue but believe no data was lost.
We had a bit of a hiccup with s GenesysGo cutover on our RPC. We didn't realize we had a hard date and they deprecated our old node. I was able to get the dex updated on Saturday but forgot to do the indexer, so we did lose Serum data from early Saturday until a few hours ago this AM.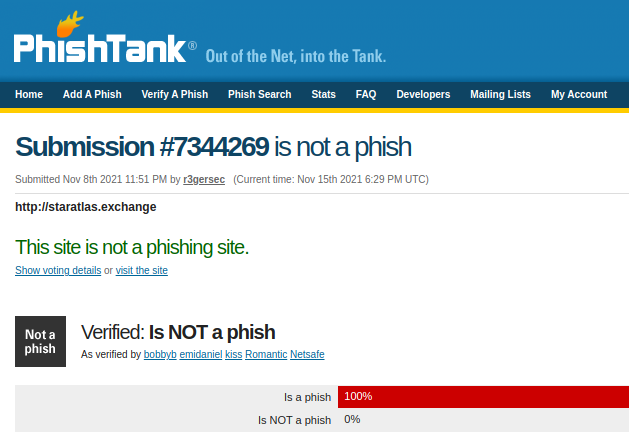 And of course there was the mis-reporting of the DEX as a phishing site. I managed to trace the source of the report to an anonymous individual on PhishTank, and it took a small Twitter campaign to get their attention to resolve the issue. I don't believe this report was maliciously generated, but it could not have been worse timing. It looks like it may have cost us some ref fees during the Wave 4 drops, but as Kristian noted, better to get this issue out of the way now rather than later when we have even more volume on the site.
All whitelists have been cleared, but I do have reports that Virgin Media's DNS service is still flagging us. Twitter is blocking us as well, I've reported it but I'm not sure there's much I can do other than wait.
In good news, The Club is referring traffic to the DEX via [their wonderful new explorer].(https://explorer.staratlas.club/). We are entering into negotiations over the use of our market data API for use as charts; more on that later.
And one more note, I've had to field two support requests for users with DEX issues this week. We need to figure out a better way to deal with these. We were using an IA chat channel but we've got more Club members coming through, and I don't want to be the one that people are DM'ing. Kristian's been doing his best, but we need a better way involving our Discord server or in browser chat.
SOLANA MIGRATION
Development continues. I've mainly been working on a front end for our AMM markets. I had to update the wallet provider, right now I'm trying to determine whether we can use the legacy Solana AMM program and whether it's been deprecated or not.
I've also been working on a distribution mechanism, and I believe I've found a program that will do the trick. Testing/development continues.
I have calculated the total voting and exit power for all founding members and will be sharing that information later.
We still have some decisions to make regarding total coin supply and distribution allocations for founding members, team, bounties, LP providers and so on. We also need to spend some time figuring out what we're going to use for a governance front end, as well as LP stake and rewards mechanism.
TRADE ACTIVITY
We did not procure any additional ships as part of the Wave 4 drops. Our C9 order did not fill.
We anticipate that the C11 will be launch "in tandem or in close proximity" to the minigame launch, currently anticipated for Dec 9-17th. We will continue to hold the bulk of our funds (currently around $85k) in the ATLAS/USDC Tulip vault and another $30,735.14 in USDC.
MEMBERSHIP
The final tally for DaoHaus will be 147 members, with 363,924 shares and 268,033 loot. There are two proposals that I am not able to process yet due to a 1559 implementation bug on xDAI.
Final membership figures for voting and exit power will be shared shortly.
TVL
$33,985.26 in token balances and open USDC orders.
$107206.42 in Orca Double Dip pools and Tulip Yield Aggregation Vaults
$248392.6146 in NFTs
for a total of $389584.2946 in NAV. This week's estimated exit value for all Daohaus claims is 0.616472789, a 2.5% increase for the week.
END NOTE
A final note about roadmap. I'm giving myself 90 days to deliver on the following dao features: token distribution, governance, and a lending/scholarship model. Those are the priorities, in order. March 19, 2022 will be the date. I'm going to focus on the token deployment for the rest of this week, and will be querying the community for feedback on certain aspects of the plan. I do not believe that I will be ready to submit a final proposal next week, but it is important that I get as much feedback as possible. We have 3-4 weeks before the launch of the minigame, and I would like to launch in tandem with that event.