Project Title
MetaMoloch
Description
MetaCartel and MolochDAO are two of the leading grant providers within the Ethereum ecosystem. Our core values (outlined under the stakeholders section) are highly aligned, while the types of projects we fund have minimal overlap. This makes us ideal candidates for exploring co-community coordination (through formation of a coordinated working group) and to create a grant matching program, to expand the impact of both communities to the greater Ethereum ecosystem.
Manifesto/Vision
Looking ahead during a time of unprecedented technological change can be frivolous. There are a ton of moving parts and no way to predict what lies beyond the horizon. The ideology of unnecessary competition is changing. Ethereum has created the tools which allow us to better share values, mitigate risk and avoid this unnecessary competition. As outlined in MetaCartel's manifesto, Ethereum and the world of Web 3 have enabled us to coordinate in a new internet of open value. While we don't know what the future holds, we have the power to choose who we share our journey with. Our vision represents two communities coming full circle to slay Moloch by driving value through coordination which outweighs the cost of coordination.
Stakeholder(s)
MolochDAO: The purpose of MolochDAO is to fund public infrastructure as technology where the total benefit generated by the technology is greater than the individualized benefit to any particular entity.
MolochDAO funds and furthers the development of public infrastructure related to ETH 2.0 and incentivizes coordination between various ETH 2.0 projects and the major ecosystem stakeholders.
A secondary objective for MolochDAO will be to research collective incentivization and iteration towards a generalized version of Moloch that is applicable to an even wider range of sub-optimization problems regardless of scale or scope.
The MolochDAO: Collapsing The Firm: TL;DR = Assuming there's no external revenue coming into the treasury, if Moloch DAO is to succeed in capturing value, it will have to do one core thing: attract members who will use the capital towards its shared goals. It essentially posits the question: can an organization grow effectively only by being quite diligent on who is allowed to be a member of it?
MetaCartel: MetaCartel's mission is to accelerate and drive the mass adoption of Web 3 and the open internet of value to make the world a richer, fairer place.
MetaCartel aims to become the epicenter of the Web 3 movement by providing grants to the earliest of the earliest ventures in the Ethereum ecosystem.
The MetaCartel offers grants of up to $10,000 to highly motivated teams that are creating a positive social, technological and financial impact on the application layer
Forking MolochDAO: TL;DR = MetaCartel's hypothesis is that the Ethereum community will be able to accelerate its process of value discovery on the application layer by coordinating an ecosystem-wide collaboration behind: Product insights, user data analytics, and shared user growth. The re-purposed DAO fork will aim to provide grant funding to dapps based on the metric of their end-user success metrics. The DAO will only funnel funding towards projects that are reaching agreed upon metric-based milestone goals to enforce ongoing growth in value creation and the search for it.
Solution
We propose forming a joint coordination working group to improve community collaboration. The joint working group will focus on identifying mutually investable funding gaps and educate/active funded (new and old) projects. In aggregate, this proposal represents a collaboration opportunity, using a bottoms-up/top-down approach, to increase ecosystem awareness.
While deliverables will be iterative, here is an outline of what we hope to solve.
Research --> identification of ecosystem constraints/bottlenecks --> funding gaps
A key to building a sustainable competitive advantage, while enabling coordination between communities, is understanding what is going on within the ecosystem and by having a thesis of what is occurring in out years. MolochDAO and the MetaCartel are complements in this area with the MetaCartel having greater visibility about what is being developed at the application level, and MolochDAO having greater ecosystem (Ethereum) visibility.
This creates an interesting opportunity to gather information from the application layer (MetaCartel) and feed this information back into future research (MolochDAO). Essentially creating a feedback loop.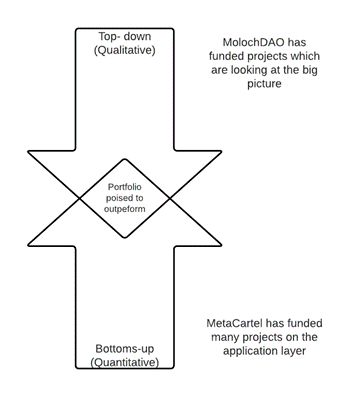 In the research phase our goal is to ultimately map the ecosystem of projects funded, to which we can easily identify:

Funding gaps
Educational gaps
Activation gaps
Funding gaps
MolochDAO and the MetaCartel have different funding mandates and provide grant sizes in different amounts. MolochDAO typically provides larger grants, while MetaCartel provides sub-$10k grants. Through ecosystem analysis, we expect to uncover a funding gap that exists in the middle ground of MolochDAO and MetaCartel (both in size and in scope) We believe there will be an opportunity to jointly provide grants in this identified area.
Education + engagement --> activation
We will also take learnings from our research, to create a similar top-down/bottoms-up framework to educate and activate individuals and communities within the projects we have funded. We aim to create sustainable best practices to enhance the success of projects we fund (individually/jointly) down the road. Creating a frameworks around education, engagement and activation should create sustainable network effects making it more attractive for individuals/communities to seek grants from MolochDAO and MetaCartel.
Delegate(s)/community representative(s)
To coordinate and maintain positive sum relationships between the two parties, we propose the DAO's elect (3) community delegates to maintain community relations and drive proposal initiatives. Delegates will be responsible for providing updates to respective communities on a quarterly basis, with scope to be determined by respective communities.

Responsibilities include: managing proposal deliverables, regular attendance of governance meetings, communicating essential information (i.e. voting) back to respective communities. (As determined by respective communities). As well as attending in person events to scout potential grantees and make first contact.
Delegates will be paid $100/hr.
Delegates are voted in by each community independently of each-other. Term-length shall be determined by the communities individually, however we encourage a minimum term of three months.
Progress
To date, we have held multiple joint meetings between MolochDAO and MetaCartel to scope the deliverables within this proposal. We have also signaled the proposal to the MetaCartel community and presented on the weekly town hall. Work to date has been to establish the parameters around this post.
Differentiation
At the highest level, our vision is a collaboration opportunity between MolochDAO and the MetaCartel. Our aim is to let initial research and coordination determine setting up a funding pool for reciprocal grants. At a minimum we view the proposal as a way to share knowledge.
Grant Request $
100 ETH (matched by both communities) granted over four milestones:
Milestone 1: 10 ETH (matched) to deliver on December-March objectives. Findings presented to the communities for vote for additional funds.
Milestone 2: 30 ETH (matched)for establishing funding/educational/activation gap (detailed strategy). Release of funds signified by passing community votes.
Milestone 3: 30 ETH (matched)for deploying 10% capital toward joint grants.
Milestone 4: 30 ETH (matched)for deploying 10% capital toward joint grants.
What the Funds Are For
Goals (December-March) - Milestone 1
Strategic
Establish regenerative treasury management practices
Jointly map ecosystem of MetaCartel and MolochDAO funded projects
Survey projects at the application layer to identify funding/educational gaps
Establish a framework to automate information flow gathered at the application layer to be fed into macro level research
Identify funding gaps & educational/activation gaps between ecosystems
Seed public goods cross-dao infrastructure, incentivizing permission-less bounties infrastructure
Operational
Set up gnosis safe and superfluid funding mechanism for joint grant funding
Establish regular meeting cadence
Regular attendance of governance meetings
Communicate findings to the communities on (monthly) basis via forum post
Help Requested
In addition to the grant, the members of the working group would be greatly benefited from a close working relationship sourcing, selecting, and distributing grants. Together we represent a diverse and omnipresent view of the Ethereum ecosystem and only together will we achieve the highest possible impact with the funds being allocating to this initiative.
Additional Resources, Links, Portfolio