Description
Pooly Pals, by Friends of Pooly, is a Web3 native crowdsourcing platform that raises funds for causes and campaigns focused on Defending DeFi and securing an Open Web3. The Pooly Pals collection is a unique set of digital collectables - developed using our ERC721K framework for dynamic NFTs.
Pick your pixels. Pick your values. The first character release using the Pooly Pals platform will be 'Pixel Pooly'. Just like any modern adventure game, Pixel Pooly and other pixel characters are leveled-up by completing quests and upgrading equipment. All purchases of items, upgrades, and expansion packs go directly towards funding public goods initiatives focused on securing an Open Web3.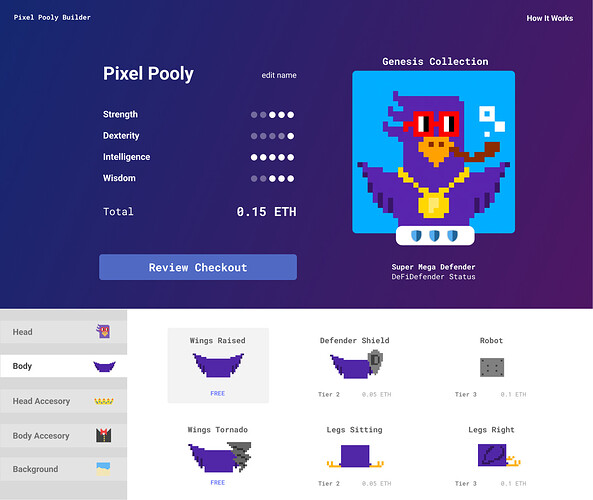 Each collectable is controlled directly by the holder: characters, items, and upgrades. This dynamic framework also gives us the ability to implement the "Birb Signal", which organizes the community behind a common cause. At the flip of a switch, all Pixel Pooly NFT images switch to a unified image for a predetermined time period. Anywhere NFTs are being actively displayed, becomes an opportunity for Pixel Poolys to show support for important causes through advocacy and fellowship, in critical times of need.
Pixel Poolys are designed and developed using our ERC721K framework. An EVM based on-chain SVG compiler which uses a public registry for Creative Commons digital assets. This registry allows for new pixel items to always be released. Thus, new pixel traits for users to add to their characters, which in-turn means continuous funds being raised for much needed public goods projects. This NFT framework provides an initial building block for communities to interact with their users through more than their dApp.
We are creating a coalition of Web3 advocates. When users mint their Pixel Pooly they are joining this fellowship and directly contributing to a stronger Web3.
Manifesto/Vision
Mission: Secure an Open Web3
Friends of Pooly is on a mission to defend decentralized finance and to secure an Open Web3 through the power of Community and visual signaling of support through NFTs.
Problem
Blockchain, cryptocurrency, and DeFi technologies are under attack. Attacks are socially and economically costly, and disruptive, delaying innovation and growth opportunities in the Web3 ecosystem.
Solution
Defend DeFi and secure an Open Web3. Pixel Pooly helps crowdsource funds, garner support and attention for critical Web3 public good initiatives. Pixel Pooly provides a place for organization and activation of an emergent grassroots Web3 movement.
Product
Pixel Pooly V1.0:
Users can select the traits they want to build their Pixel Pooly
They can then mint their Pixel Pooly or download the image (off-chain)
Users can update their Pixel Pooly, adding traits to it
Users can swap out traits they have unlocked
Fully functional "Birb Signal", a temporary image swap so all NFTs signal support for the same cause
Ability to launch expansion trait packs to raise funds for new threats and show support in the fight for an open Web3
Phase 1: Deploy private MVP (Minimum Viable Product) beta of unaudited contracts. The aim here is to capture valuable user feedback before auditing the contracts.
Will include:
Limited amount of traits
Users can customize their Pixel Pooly, mint or just download image off-chain
Includes 'Birb Signal' functionality
Phase 2: Deploy public version 1.0 audited contracts. This will include everything from the Private Beta phase as well as an expanded set of traits and the ability for users to update their Pixel Pooly, allowing them to add traits after mint.
Validation
We had over 1,000 contributors and raised over $6,000 in direct contributions in the last Gitcoin grants round GR15. And we continue to have over 1,000 active Pooly Holders interacting with community generated derivatives. We also currently have over 600 users registered for the private beta via https://poolypals.com/register.
Progress
We have made a beginning. We already have some of the fundamental contracts in place to be able to launch our private beta. We are looking to launch the private beta in the coming weeks.
Here is a rough timeline:
11/15/22 - Pixel Pooly landing page developed and live with private beta registration form. (Completed 11/9/22)
11/30/22 - Phase 1 launches on Optimism for private beta with feedback form.
1/9/23 - adjusting (if needed) based on feedback from private beta, then get contracts audited.
1/30/23 - Phase 2 launches with a more robust set of traits, downloadable image from Pixel Pooly builder, and UI to update traits amongst what was minted.
3/30/23 - Launch expansion traits.
Differentiation
Friends of Pooly is creating a fun way for people to contribute funds that will go towards defending DeFi and other important causes for building an open Web3. We envision this enabling a grassroots movement that allows people to express their Web3 values visually, join a fellowship greater than themselves through our community, and advocate for a free and open Web3 by organizing and contributing to our community and others. We have seen this evidenced by the Pooly NFT mint, a very specific mission driven sale, which raised 1,042.6 ETH (135% of their goal) by 6,134 unique wallets.
We see a future where Friends of Pooly is leading the way in crowdsourcing funds for any protocol or project that is under attack. We will be the powerhouse safeguarding the Web3 space and will be a valuable partner to any DeFi protocol or Web3 community.
Team
Friends of Pooly, is an extension of PoolTogether's Pooly - a campaign to raise funds for an ongoing case which sets an important precedent, related to Decentralized Finance and Decentralized Autonomous Organizations.
Stewarded by Ryan McPeck (CEO), Rollin Phillips (COO), and Kames Geraghty (CTO). Active members and contributors to PoolTogether DAO and blockchain savings protocol. The team is committed to Defending DeFi and furthering the mission to secure an Open Web3. We also have a handful of core contributors, over 7,000 Pooly NFT holders, and over 1,000 very active holders voting on Snapshot and interacting with community driven Pooly NFT derivatives.
Grant Request $
$10,000
Additional Resources
Info Deck: Pixel Pooly Deck
https://www.friendsofpooly.com
https://poolypals.com/pixel-pooly
https://twitter.com/FriendsofPooly
https://discord.gg/friendsofpooly