Project Title: Giveth x MolochDAO: Turning nonprofits into Impact DAOs
Description
Giveth is a donation platform built on Ethereum, rewarding and empowering those who give to projects, to society, and to the world.
Our community is focused on Building the Future of Giving using web3 technology. Our intention is to support and reward the funding of public goods by creating open, transparent and free access to the revolutionary funding opportunities available within the Ethereum ecosystem.
On our DApp, 100% of donations go directly to the project and Donors to verified projects are rewarded with GIVbacks.
Creating a project to raise funds with Giveth is simple and permissionless, however to be part of the GIVbacks program and reward donors with GIV, projects have to submit an application for our verification team to review to ensure they are truly a Public Goods project.
Manifesto/Vision
Our vision is to create a platform where we can offer the tools to turn nonprofits into ImpactDAOs governed by Soul Bound Tokens (SBTs).
We will work with the DAO curious projects on Giveth to help them build their own reputations systems.
We will hold weekly open office hours as well as several 1-1's workshops, and structured courses to support nonprofits to launch, maintain and evolve their own DAOs.
With this grant we hope to also introduce the Moloch V3 DAO and put nonprofits into MolochDAOs where donors can rage quit their funds.
We believe that by using web3 technology we can enable new forms of coordination in the nonprofit space, giving a larger voice to volunteers, relevant experts and beneficiaries of nonprofit services, whom often take a back seat to the donors and leaders of nonprofits who often have unchallenged control in one form or another. We believe that by giving these tools to nonprofits and letting them experiment and determine their own reputation systems that work for them, we will be able to derive patterns and eventually even best practices for decentralized bottom-up public goods creation.
Problem
We are disrupting a $25 trillion industry where governments and NGOs spend on public goods worldwide (that is 25x the total crypto market cap). This will disrupt the >$500 billion nonprofit industry and potentially even change how governments work!
When governments fail to provide Public Goods that are in demand, people start nonprofits, and that's where Giveth steps in…
Solution
Giveth.io is a donation platform changing the way we fund public goods using web3 to create revolutionary opportunities for projects and donors alike. Benefits include no fees, no intermediary between projects and donors, no particular charity status needed, and rewards for donating. Thanks to Giveth public goods can benefit from the equitability, traceability, security and full accessibility of web3 for their fundraising need.
We have a long path ahead of us, but to start with we are building a strong community around public goods to evolve the nonprofit space. With a strong foundation we can then offer our services that people actually WANT to governments and slowly shift the narrative of top down control by giving voice and power to the people on the ground making the change.
Highlights of our most notable work:
2016: Created the Minime token, used by every AragonDAO, Status and countless other projects, eventually it was forked and updated by Compound and now used by Uniswap, Gitcoin, ENS and many others.

2017: Launched our first and second versions of our Donation Application but ran into scaling issues

2018: Organized the ScalingNow! Conference, bringing together the community focused on scaling Ethereum for the first time, and made a bridge to rinkeby to use it as our own side chain, while also supporting the launch of xDAI.

2019: Spun out the Commons Stack to do applied DAO research, we created the Augmented Bonding Curve and Conviction Voting.

2020: Started the work on the Token Engineering Commons, focused on advancing token engineering as a public good. This is our first step towards making nonprofits regenerative economic systems.

2021: Launched our fourth generation donation platform and the GIVeconomy, which we are building on top of today.

2022: We launched GIVpower for decentralized curation of our platform and raised $1.2M for public goods focused projects and gave out over $700k in donor rewards.

2023: If funding permits, we hope to make Giveth the default place to go for collecting donations in crypto by adding NFTs, quadratic funding, and traceability features. We also intend to help successful projects on the platform evolve into Impact DAOs governed by SBTs.
Product features
The GIVeconomy Universe!
The GIVeconomy is what really sets us apart, below is a quick run-through of the major pieces of our ecosystem.
GIVbacks - The entry point to the GIVeconomy. Donors to verified public goods projects get GIV tokens in return. This flips the script on tax deductible donation, creating a decentralized and borderless way of incentivizing donations. (LAUNCHED !

)
GIVgarden - Platform for decentralized governance over funding proposals. GIV holders are able to propose and vote on how to allocate funds from the Giveth community treasury using Conviction Voting. (LAUNCHED !

)
nrGIV DAO - This is a unique reputation DAO where contributors who have been actively participating in our community for 3 months or more are eligible to participate. This DAO mostly handles the day-to-day operations and stewards the GIVeconomy smart contracts. (LAUNCHED !

)
GIVpower - Donors can lock their GIV tokens for GIVpower and use them to boost/curate projects on the platform. Projects with more GIVpower are ranked higher and in turn, their donors are rewarded with more GIVbacks. (LAUNCHED !

)
GIVfi - Latent donations on the platform can be used to generate a low-risk yield while waiting to be disbursed. This yield is to support the Giveth DAO, and a portion is given to the projects themselves ("GIVsavings"), enabling nonprofits to have a defi saving account. (PHASED ROLL OUT - 2023)
GIVmatching - Top-ranked public goods and for-good projects on the platform will have the opportunity to have their donations matched via a collectively funded matching pool. We are collecting funds for the matching pool at donation.eth and plan to work with the (Gitcoin) Grants 2.0 system when it is released (Q2 2023).
GURVES - The holy grail of public goods funding. Giveth projects can evolve into DAOs with their own micro-economies collateralized by GIV in a bonding curve. This is still very much in the research phase in partnership with Commons Stack, but is the Giveth endgame, turning the donation platform into an investment platform. (TBA)
Gurves will transform Giveth from a donation platform into an impact investment platform. Innovators in the nonprofit space will be able to capitalize on their idea and find seed capital on the platform to create their own token, but each token will be collateralized by GIV.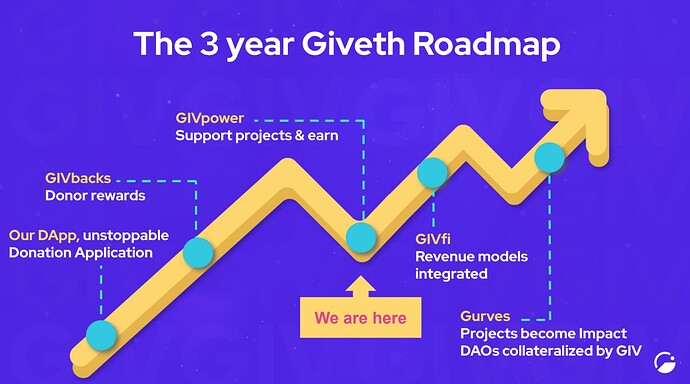 Validation
Since our launch, we have verified over 1,700 projects, which have received over 15,000 donations with more than 4,200 unique donors.
We're supporting quite many topical causes:
One recent example is this Tweet that went viral where Giveth is supporting Iranians in web3.
​Some of our other most funded projects are causes supporting universal basic income.
or support for Ukrainian.
And many more on https://giveth.io/projects

Team
We are building a business model, which provides value in the nonprofit sector and public goods. We were founded in 2016 and have a core team consisting of ~20 and 50+ Giveth contributors, many well-known names in the space.
Our organization has incredible access to experts in the space. There are very few DAO experts with higher regard than our founder Griff Green and because of our long history and connections to rescuing TheDAO, Parity Multisig, and various other at risk funds in Ethereum, we have a wide network of smart contract experts and general web3 experts across all disciplines.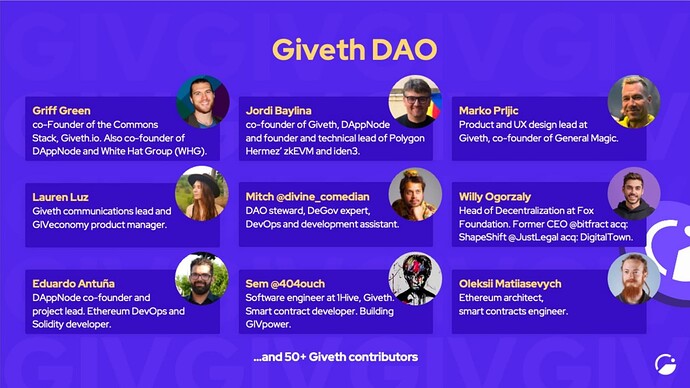 Grant request
We are asking for 30 ETH to support us in pursuit of our ultimate mission: To reward and empower those who give.
Giveth has been adding value to the public goods sector for 5 years, funded solely by donations despite having a token, we do not have, and never have had any investors and have never sold tokens.
What the Funds Are For
Much of this grant will support the operation and maintenance of the Giveth platform as it is today. Our burn rate is about $100,000 a month, which we would argue is very impressive for a web3 project of our size. We have 20+ full time contributors and 20+ part time paid contributors and almost solely employ contributors from lower income countries. We have monthly transparent reporting of our costs on our forum.
If this grant passes, we will kick off our Impact DAO project and introduce Molochv3 DAOs where nonprofits can opt to be added in MolochDAOs and donors can rage quit their funds. When donors donate, they will get loot and reputation tokens will be represented by voting shares in MolochDAOs. Capital contributors can rage quit, but the reputation DAO has the decision making power.
There are two pieces of work that will be done in parallel, one is the various technical improvements to the Giveth platform that will enable projects to be run by Impact DAOs. We will enable DAOs to manage their project with their DAO (including donations, updates and project descriptions), as well as reward donors with SBTs automatically when they donate.
The technical improvements will be scoped out more fully based on the results of the other main deliverable: A 3 month hands-on course for projects to launch their own SBT-governed DAO. Below is a projected timeline, all work will be recorded, documented and regularly marketed so it can be done by communities in the future without our direct involvement. All workshops will be very well prepared interactive Miro board group exercises, and will include web3 experts from the field to lead every workshop like Griff Green, Livia & Tam from Commons Stack, Commons Stack, Zakku from Coordinape, Michael Zargham & Jeff Emmett from Blockscience, and various other experienced web3 practitioners.
Below is an initial syllabus of the course. This is informed by years of applied research into building DAOs around Public Goods.
No.
Milestone
Description
Duration
1
Build the coursework, media push and align the community on the subject
Lay the groundwork, write blog posts, twitter threads, emails, build the course work
2
Conduct workshops:

#1

Kick off & MVV
Introduce the syllabus and learning opportunities to our first set of cohorts, as well as describe the purpose of a Mission Vision Values documentation
1 week
3
Conduct workshops:

#2

Recognize Past Labor & Expertise
Introduce the concept of giving voice to past contributors and experts who have helped the project
2 weeks
4
Conduct workshops:

#3

Recognize Past Labor & Expertise
Workshop focused on developing a strategy for giving voice to the beneficiaries of the charity, their community of experts and past contributors using web3 delegates, direct rep token allocations, surveys and other strategies that can be tailored to each community
2 weeks
5
Workshop on community engagement strategies
Describe a strategy for how each stakeholder will be engaged and for a small sample set, propose these strategies directly to those stakeholders to verify if it will work
2 weeks
6
Workshop to overview the pros and cons of the various reputation systems in web3
Create an initial spec for your project's reputation system, including initial distribution and plan for continued distribution (e.g. Praise, Coordinape, Goveryn, POAPs, Otterspace, etc)
1 week1
7
Workshop on MolochDAOs
Introduce the concept of rage quit and adding the optionality of Moloch v3 DAOs where donors get to choose whether they prefer GIVbacks or loot, explain benefits and drawback of both and how projects can use this mechanism in their impact DAO
1 week
8
Review & feedback
1:1 sessions with each group that has reached this point to help them review their design spec tailored for their unique set of stakeholders. Multiple sessions might be needed with each group
1 week
9
Pitching sessions
Where projects can put together their own "whitepaper" from all the learnings from the course and how they decide to structure their impact DAO
2-3 weeks
Additional Resources, Links, Portfolio
You can reach us directly through email: yass@giveth.io , Discord: Yass#3392 , Telegram: @yass92
Useful links:
Website: https://giveth.io/
Discord: Discord
Twitter: https://twitter.com/Givethio
Youtube:
Evolving Nonprofits Regen Economics.
The Biggest Web3 Opportunity That No One Is Talking About
Presentations
Deck: https://giveth.io/deck/