Project name
Uni Streaming
Description
Uni Streaming is the decentralized approach to music streaming. Founded by independent musicians for independent musicians, we solely host unlicensed music. (No Major/Indie Labels)
Vision
We are reframing what it means to be a musician, the musician isn't much different from an entrepreneur, you are the business! But imagine trying to build a business, yet the resources you need to start are scattered around every continent of the world! That's what it's like for independent musicians in our age. Uni will provide all the tools you need in one place to build your fan base!
Uni Streaming is designed, and developed with the local musician in mind. Uni will not only payout more, but more importantly, it will strengthen the relationship between fan and musician, because with 1,000 super fans, any musician can make a living.
Problem
Independent Musicians don't have a tool to conglomerate their fans and build their career. As a musician you're either starving or you're a super star, it's very rare that you fall in between these two extremities. Why is this the case? Streaming platforms cater to Major Labels, and major labels cater to the top 10% of musicians. If streaming music on these platforms is the only way that consumers buy music these days, then how can independent and local musicians even attempt to make a living?
Solution/Product
Uni, streaming for independent local musicians, where local music is highlighted, where musicians are paid out more, and where a valuable community is priority. A subscription based streaming platform backed by the people. Discover local musicians wherever you are, Listen in on live music experiences right through your phone, directly tip or sponsor local musicians, fans become an investor through purchasing music NFTs. Uni is creating super fans out of all of us! Uni naturally encourages minorities because we claim the independent musician market, which is an enormous minority making up 90% of Spotifys musicians, yet getting no real leverage or payout.
Validation / Traction / Progress so far
Web2 and web3 musicians, are still facing the same issues of bringing their fans together in one place, all of the social media platforms we use aren't catered toward the creatives and web3 platforms are still inaccessible to web2 fans and probably wont be for another 5 years. There needs to be a catalyst for this transition into the creators economy, and we wan't Uni to be that catalyst.
So far, with no funding we've garnered a team of one senior developer, a junior developer, and a UX/UI Designer. They believe in what we are doing so much that they are wiling to help us pro-bono until we have funding. We put on many local events here in Austin, TX and our most recent one on 8/20 is sponsored by NEAR Protocol of Austin. We've built strong relationships with Popmantra, a NFT educational group that travels around different cities and hosts events for on boarding and educating around NFTs. This year for SXSW we hosted an amazing panel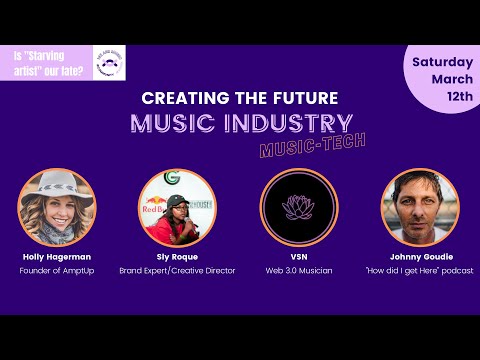 Team
Brenna Damatta: (Co-Founder & Musician) Rolls: Project manager, Long term strategy, Marketing Content Design, Story Telling (copywriter), community organizer, Event organizer
Cannon Outlaw: (Co-Foudner & Musician) Rolls: Team Lead, UX/UI Designer, Conceptual Thinker, Graphic Designer, event organizer, community engagement
Ross Edwards: (Senior Developer) Ross has been an amazing tech lead and has taught us a lot about the blockchain technology. He has 10+ years in development and is located in LA
Quinton Chinyoua: (Junio Developer) Quinton is still learning a lot about development but he is very open and willing to take on new challenges as he grows. He has a knack for marketing as well.
Cj Nnemiack: (UX/UI Desiger) Cj has been with us since 2021 when we first stared designing the mobile screens. Cj is based out of Houston and has agreed to help us design the web version screens as well. Cannon is helping him tremendously as he is limited with time right now.
Janela Rev: (Content Producer) We met Janela in Austin, TX she is a great videographer and editor. She has been a content producer for every single #FEATURETALK Sessions event. She has provided so much value to the team. She has also helped us with some UX/UI design.
Grant Amount Requested
$10,000
What it will be used for?
This will be used to help us pay our selves and the team as the founders (Cannon & Brenna) prepare to go full time on this project. We want to be able to be full time by October of 2022. The founders are also preparing to go city by city and meet many of the web3 folks we've met online in person so we can establish more connections as we prepare for Uni Fest 2023.
Please provide a specific line item budget to show how you will use the funds.
4 Months:
Ross: $500/month
Brenna: $1,000/month
Cannon: $1,000/month
Quniton is still learning and hasn't been able to produce code yet, he will stay as an intern until he's reached a certain experience level and can contribute.
Attach any additional documents/resources about the project if you have any.
How did you hear about MGD's Funding program?
Online